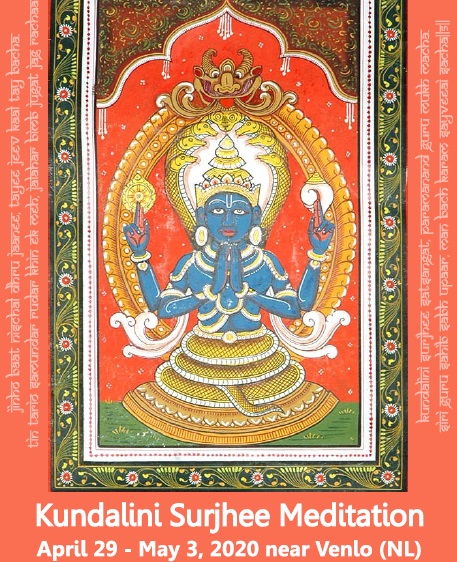 Surjhee 2020 gaat door in aangepaste vorm
De Kundalini Surjhee 2020 gaat dit jaar door in aangepaste vorm vanwege het corona virus. Het 1e deel in april/mei is het online en het 2de deel in augustus is in Kasteel de Berckt:
We have 2 parts:
online 29 APRIL – 3 MAY
plus on-site 19 – 23 AUGUST 2020 in Kasteel de Berckt
Part 1 + 2 are obligatory! It is not possible to book only Part 1.
TO PARTICIPATE YOU NEED TO HAVE AT LEAST
4 TIMES PREVIOUS JAPA EXPERIENCE WITH GURU DEV
(Re Man Meditation or Kundalini Surjhee).
~~~~~~~~~~~~~
PART 1: ONLINE 29 APRIL – 3 MAY
We meet online from 29 April to May 3, there will be 24 h Zoom sessions with Guru Dev Singh, Sadhu Singh, Hari Nam Kaur, Hari Singh and other facilitators.
PART 2: ON-SITE 19 – 23 AUGUST 2020 IN KASTEEL DE BERCKT
370 € including basic accommodation (4-7 bedrooms) or 350 € for Camping, incl. meals
BOTH PARTS ARE OBLIGATORY!
COSTS will be splitted: 7,000 Mexican pesos (ca. 270 €) till April 27th via Paypal and 370 or 350 € (Camping) for the Japa in August in cash when you check in
REGISTRATION LINK: https://forms.gle/XZCTpuVfGhiELnuE6
Let's come together and raise the energy.
Let's come together to breathe and chant.
~~~~~~~~~~~~~
Join Guru Dev Singh and other facilitators to perform a profound meditation of 11,000 repetitions of the beautiful shabad, Kundalini Surjhee Satsangat, in praise of Guru Ram Das. This Shabad is found on page 1402 in the holy Siri Guru Granth Sahib ji. Together we'll sit for five days until 11,000 repetitions have been completed for a total of about 66 hours.
Unlike any other course you have taken, during the days of the meditation the only teacher is the magnificent Shabad Guru itself. This is a very deep and serious meditation for conscious people who have a strong spiritual discipline.
CONTACT: Carmen Smida
Mobile +49(0)178 522 22 29
carmen.smida@sat-nam.de
——–
11de Kundalini Surjhee 29 april – 3 mei 2020
Doe mee met Guru Dev Singh en andere Sat Nam Rasayan-leraren om een ​​diepgaande meditatie uit te voeren van 11.000 herhalingen van de prachtige shabad, Kundalini Surjhee Satsangat, ter ere van Guru Ram Das. Deze Shabad is te vinden op pagina 1402 in de heilige Siri Guru Granth Sahib ji. Samen zitten we vijf dagen totdat 11.000 herhalingen zijn voltooid, in totaal ongeveer 66 uur. Dit is een zeer diepe meditatie voor bewuste mensen die een sterke spirituele discipline hebben.
Voorbeeld van een dag: de Shabad zal continu spelen, 24 uur per dag als de cursus start.  Je hoeft niet altijd in de groep te zitten of in de meditatiehal te blijven. Het wordt aanbevolen om ongeveer 10 minuten per uur bewegen. 

Zorg ervoor dat je genoeg matten en kussens meeneemt om comfortabel te zitten, tulband / hoofddeksel, een timer en een pen, een Mp3-speler met de Mantra is handig, papier om je zittingen bij te houden. Je hoeft geen beddengoed of handdoeken mee te nemen.
Locatie: Kasteel de Berckt in Baarlo (dichtbij Venlo).